Partner
We are a member of The Federation of European Psychodrama Training Organisations (FEPTO) wich gathers organisations from 27 European and Mediterranean countries and wishes to support the development of psychodrama training, by promoting scientific and social exchanges between trainers and training institutes, establishing Minimal Training Standards (MTS), giving ethical Guidelines and promoting research.
For more information please visit the FEPTO Homepage
Also individual european countries have founded their own Psychodrama Institutes. Some of them became partners of the Psychodrama Association for Europe e.V. There are currently 7 partner organisations (in alphabetical order).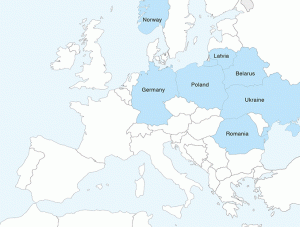 Germany
Psychodrama-Institut für Europa
Landesverband Deutschland e.V.
Ordulfstr.15 in 22459 Hamburg
geschaeftsstelle@psychodramainstitut.de
www.psychodramainstitut.de
Chairman: Uli Markowiak
Lithuania
Lithuanian Psychodrama Association
Studentu 39 , LT-08114 Vilnius
info@psichodrama.lt
www.psichodrama.lt
Chairwoman: Aurelija Radstyte
Psychodrama, Group Therapy and Training Centre "EOS Groups"
Smetonos 5-401, Vilnius
Gauda.Karmaze@eosgrupes.lt
www.eosgrupes.lt
Chairwoman: Gauda Karmaze
Poland
Polish Psychodrama Institut – Association
www.psychodrama.pl
Chairwoman: Anna Bielanska
Forum Psychodrama
biuro@forumpsychodramy.eu
monikascibak9@op.pl
www.forumpsychodramy.eu
Chairwoman: Monika Ścibak
Romania
Societate de Psihodrama Jacob Levi Moreno (SPJLM)
www.psihodrama.ro
Chairwoman: SIMONA VLAD
Ukraine
Kiev Psychodrama Association
www.psychodrama.kiev.ua
Chairwoman: Valentina Stanishevska