Deputy Treasurer of the Board
Johanna Olberding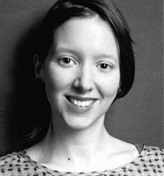 M.A. Educational Science; B.A. Social Work
Psychodrama Leader
I am 34 years old and live in Hamburg, Germany.
I love to do sports like dancing and climbing. But most of my free time I spend doing Playback theatre and hang out with family and friends.
I am in professional love with Psychodrama since I started studying social work. I met Christoph Hutter who has been an university teacher of mine. He introduced Psychodrama to some students – me included. So I started becoming a psychodramatist through first and second level and I recently finished my co-leading of a first level group to become a trainer.
In my daily work I do as in dancing – I dance on different floors with different steps
I recently finished working in a company for personal and organizational development to go back into social work. Since October I work as a social worker in an ambulant social psychiatrics company. Getting to know a new and different world and being excited to use psychodrama in this area.
Since 2012 I am also working as a university teacher to bring Psychodrama and other topics to students.
Putting my time and thoughts into the Psychodrama Association for Europe e.V. together with all the board members is to built an european house on the philosophy of Moreno. This means to me to built it on human ethical principles, encounters and relationships.
So for now it s enough about me. How about you, members of the Psychodrama Association for Europe and people of Europe?